The tubular chrome-moly receiver is held to the stock with two identical hex-head guard screws inserted through alloy pillars. The steel recoil lug is imbedded in the stock, engaging a cross-groove in the belly of the receiver ring. This arrangement, a cost savings, seems as functional as the traditional receiver lug forged with the ring. On top, the Compass is drilled and tapped for Weaver scope bases, which T/C provides with each rifle.
Rotary magazines appeared over a century ago. They're at last getting the attention they deserve, mainly because they can now be fashioned as detachable polymer boxes—a much less expensive effort than machining a cavity in a steel receiver blank! The Compass magazine fits snugly, secured in front by a flimsy-looking but functional polymer latch attached to the magazine. Easy to insert and to extract, the box is lightweight and feeds cartridges smoothly. T/C lists it as a 5-shot magazine for the nine standard Compass chamberings, a 4-shot in 7mm Remington and .300 Winchester Magnums. I found resistance pretty stiff after loading four 6.5 Creedmoor rounds in my rifle.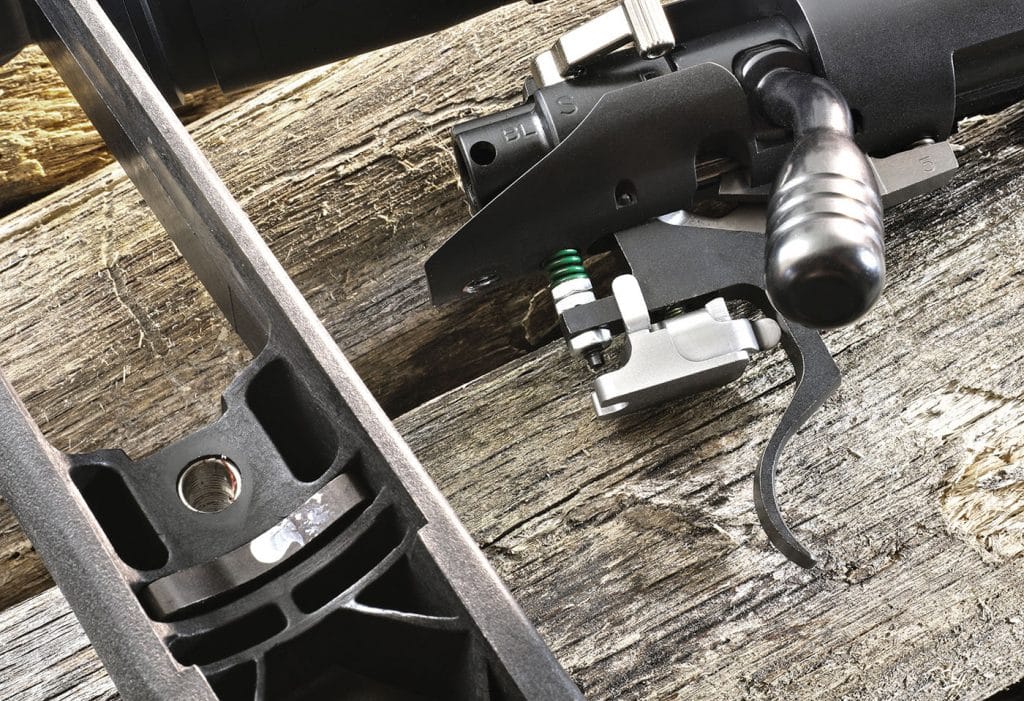 The slender 22-inch Compass barrel (24 inches for magnums) floats, and boasts the popular "5R" rifling that appeared some years ago at T/C. Naturally, twist rate depends on the chambering; it's 1-in-8 for the 6.5 Creedmoor. The selling point to this rifling form: minimal bullet distortion. T/C button-rifles its Compass barrels and guarantees minute-of-angle groups with factory loads. In a nod to current trends, it also threads the muzzles for suppressors and brakes – 1/2-28 for .204, .223 and .22-250; 5/8-24 for .243 to .300 Win. Mag. All come with knurled caps.
Equipped with a pliable 3/4-inch recoil pad, an integral trigger guard and standard sling swivel studs, the molded Compass stock has sleek lines, a straight comb and open wrist. I like all that, am less inspired by its reverse-angle nose. Hands cold and wet? The functional texturing at wrist and forend (also helpfully troughed) keeps you in control. This stock feels agile. Not as stiff as some shooters might want for hard bipod use, it's solid enough from traditional hunting positions, and its light weight holds overall rifle heft to 7.4 pounds. The comb positions my eye just right for a low-mounted scope but offers plenty of support for quick aim through the Nightforce 4-14×50 I installed in medium rings.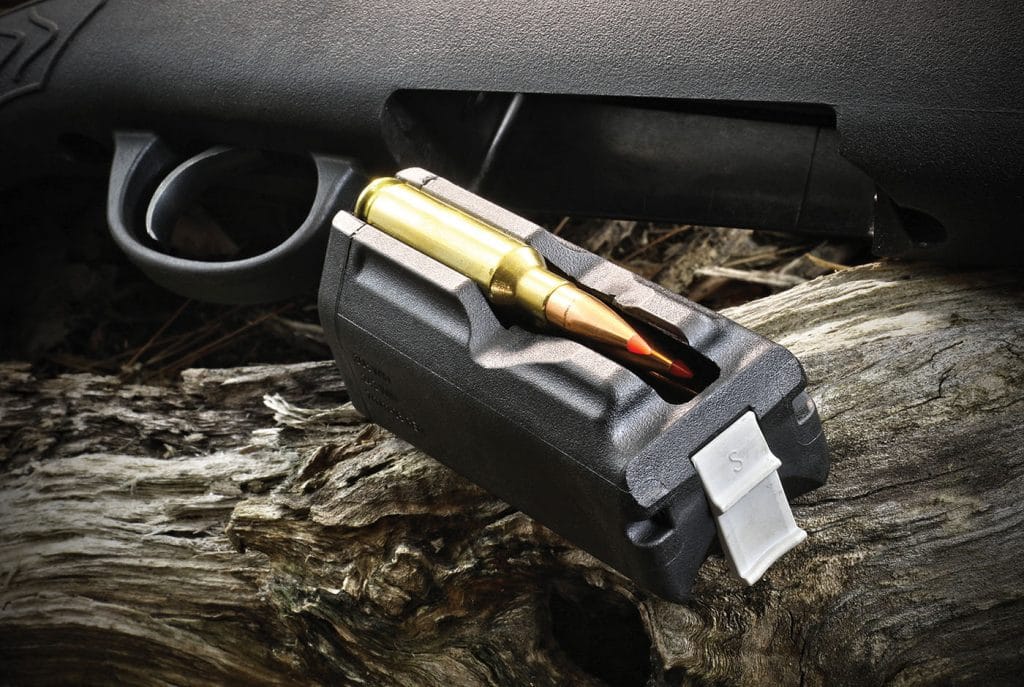 At the range, the rifle fed three types of ammunition (Federal, Hornady and Creedmoor brands) without a hitch. The magazine wasn't designed for single feed, and cartridges dropped into the smallish port fall well below line of bore so they won't chamber readily. However, tipping the rifle to so the case rolls against the left receiver wall is a quick solution. The cartridge then noses readily into the chamber. Not that hunters will use the Compass as a single-shot; but I've fired in hunting-rifle matches that prohibited magazine loading, so this is always a check-box in range trials.
From the start, this rifle showed a preference for 140-grain bullets over lighter weights. It showed an eagerness to shoot them well and meet T/C's 1-MOA guarantee. My first group with Federal Fusion ammo measured exactly an inch, and tighter knots ensued. Impressed by such intrinsic accuracy, I found it hard to tap. Tugging on that 5.4-pound trigger made this lightweight rifle tremble. The movement came clear at 14x, and my calls when shots broke off-center were usually correct. No doubt a lighter trigger will help deliver groups that better reflect Compass capabilities.