If you've got an extra 50 bucks kicking around you can get the upscale version, called the M&P15 Sport II With Magpul MOE M-Lok ($769). This rifle is identical to the Optics Ready model, except that 50 bucks gets you a Magpul MOE M-LOK carbine length handguard with rows of M-LOK slots at the 2, 6 and 10 o'clock positions that allow direct attachment of M-LOK accessories or Picatinny rail sections, a Magpul MBUS flip-up rear sight and a 2-inch M-LOK Picatinny rail panel. It's fitted with a slightly different 6-position collapsible buttstock that increase the fully extended overall length to 36.8" and the Magpul MBUS flip-up rear sight, MOE M-LOK handguard and 2-inch M-LOK Picatinny rail panel increase the empty weight to 6.8 pounds.
Both rifles come with one 30-round Magpul PMAG, and are backed by Smith & Wesson's lifetime service policy. See the M&P15 Sport II at your firearms dealer, or for more information contact Smith & Wesson, Dept. OT; Tel.: (800) 331-0852: Web: www.smith-wesson.com
Ruger AR-556
Ruger's AR-556 (Model 8500) is a quality, A4 flat top in basically Mil-Spec configuration, but with a few enhancements ($799). The upper and lower receivers are machined from aerospace-grade 7075-T6 aluminum forgings, Type III hard coat anodized for maximum durability. The upper includes a forward assist, dust cover and brass deflector, and the bolt is machined from 9310 steel shot peened and pressure (proof) tested to ensure strength, structural integrity and durability. The machined gas block is located in a carbine-length (M4) position for improved balance and handling. Multiple attachment points include a QD socket and bayonet lug, for many sling and accessory mounting options. Serrations on the angled face of the gas block provide a low-glare surface.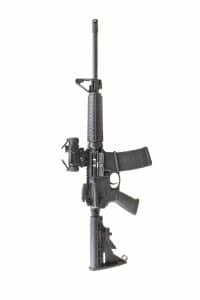 The 16.1" medium contour, cold hammer-forged barrel with ultra-precise rifling provides exceptional accuracy, longevity and easy cleaning. Six-groove rifled at a 1:8″ twist rate, it stabilizes bullets from 35 to 77 grains, and the 5.56 NATO chamber allows the use of both 5.56 NATO and .223 Rem. ammunition. M4 feed ramps provide improved operational reliability, and the matte black oxide finish reduces glare and provides corrosion resistance. A Ruger flash suppressor is provided, and the 1/2″x28 threaded barrel allows for standard muzzle accessories to be installed. Ruger's patent-pending barrel nut and Delta Ring are designed for one person handguard removal and installation. The design accepts most standard carbine length handguards. The barrel nut uses a standard wrench and can be swapped with a Mil-Spec barrel nut if desired. Sights consist of an elevation adjustable front post and a Rapid Deploy flip-up rear sight that windage adjustable, and pairs with the front sight for a solid, reliable aiming system.
Internals include a chrome-plated bolt carrier and chrome-plated, staked  gas key provide exceptional resistance to hot combustion gases. The gas key is staked so that it will not loosen after extensive firing. The bolt carrier is finished in matte black oxide finish for corrosion resistance. Controls are all Mil-Spec and are positioned in their usual places. A single-stage trigger has an enlarged trigger guard for shooting while wearing gloves.
Furniture consists of a 6-position telescoping buttstock with a sling loop at the rear, Mil-Spec, 2-piece, glass-filled nylon carbine length handguard with heat shields, and an ergonomic pistol grip with extended trigger reach for more precise trigger control. Overall length is 32.25" with the buttstock collapsed and 35.50" with it fully extended. Empty weight is 6.5 lbs, and it comes with one 30-round Magpul PMAG. See it your gun shop, or for more information contact Sturm, Ruger & Co., Dept. OT; Tel.: (336) 949-5200; Web: www.ruger.com