Other features include Rock River's good-performing single-stage trigger (as opposed to the excellent Rock River Arms two-stage trigger on some of their more expensive models…we're guessing this accounts for a good bit of the savings); Mil-Spec charging handle, safety selector, magazine release and bolt release in all the expected places; and Rock River's 1 MOA accuracy guarantee. Furniture is RRA standard fare, consisting of an RRA 6-position Tactical CAR buttstock, polymer A2 pistol grip and mid-length, 2-piece polymer handguard with heat shield. Sling loops are provided front and rear: a fixed loop at the heel of the buttstock and a pivoting loop at the rear of the gas block. Empty weight is 7.1 pounds, and overall length is 36.0 inches with the buttstock fully extended. It comes with one 30-round magazine, a lockable plastic hard case and RRA's limited lifetime warranty. Tough to beat for the $$$. See it at your firearms dealer, or for more information contact Rock River Arms, Dept. OT; Tel.: (866) 980-ROCK; Web: www.rockriverarms.com
Savage Arms MSR 15 Patrol
Savage Arms is another major gun manufacturer that didn't have an AR rifle in its product line until recently. They now offer four different models: the MSR 15 Patrol ($852 or $868), the MSR 15 Recon ($999), the MSR 10 Hunter ($1481) and the MSR 10 Long Range ($2,284). The first two are built on AR-15 platforms, while the last two are AR-10 platform rifles.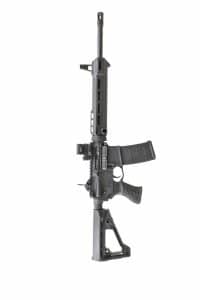 The subject of our review is the MSR 15 Patrol. It employs a direct gas impingement operating system and is definitely a step up from the many rack-grade M4 clones out there. Surprisingly, it's offered in two different models, the only difference between the two being that one has a forward assist ($868) and the other one doesn't ($852). Otherwise, they are identical in every respect.
Accuracy has always been the long suit of Savage rifles—we've never tested one that didn't shoot sub 1 MOA—and their entry-level AR-15 continues in that tradition. Built on Mil-Spec forged and machined aerospace-grade aluminum alloy receivers, the upper is an A4 flat-top fitted with an upgraded 16-1/8", medium contour barrel, 5R rifled at a 1:8" twist rate to accommodate a wide range of bullet weights. It has a Wylde target chamber that will happily gobble up 5.56 NATO and .223 Rem. spec ammo with equal aplomb, and the barrel is finished in Melonite QPQ. The threaded muzzle is fitted with an A2 birdcage flash suppressor, and the action is operated by a mid-length gas system. Both the upper and lower receivers are hard-coat anodized in matte black.
Sights consist of a custom A-frame gas block front sight and a BLACKHAWK! flip-up rear sight. Except for its enhanced Mil-Spec+ trigger—Savage knows the contribution a good trigger makes to repeatable accuracy—fire control components are all Mil-Spec and are located in their usual positions. The combination of the MSR 15 Patrol's enhanced barrel and Mil-Spec+ trigger deliver accuracy well beyond  Mil-Spec potential.
Furniture consists of a BLACKHAWK! Knoxx Axiom Carbine collapsible buttstock with pronounced check welds and two quick-detach sling receptacles on each side; a BLACKHAWK! polymer handguard with molded-in forward hand stop and quick-detach sling receptacles on each side; and a BLACKHAWK! Knoxx ergonomic, textured polymer pistol grip. Overall length is 32.5" with stock fully collapsed, and 35.75" with it fully extended. Empty weight is 6.5 pounds, and it comes with one 30-round polymer magazine. See it at your gun shop, or contact Savage Arms, Dept. OT; Tel.: (800) 370-0708: Web: www.savagearms.com
Smith & Wesson M&P15 Sport II
It's not often that a premium gun maker like Smith & Wesson winds up with the distinction of having one of the least expensive offerings in a round-up like this, but that's the case with their new M&P15 Sport II Optics Ready rifle, priced at $719. Chambered in 5.56 NATO/.223 Rem. interchangeably, this basic, direct gas impingement operated AR-15 features a mid-length gas system with Picatinny rail topped gas block that is level with the A4 upper receiver's 13-slot top rail and has a quick-detach sling receptacle mounted on the under side. The upper and lower receivers are standard M&P15 components, forged and machined from aerospace-grade aluminum alloy just like the more costly M&P15 models.
The 16-inch, medium contour barrel is machined from 4140 carbon steel and is rifled at a 1:9" twist rate. It features a threaded muzzle with an A2 birdcage flash suppressor installed. The barrel is finished in Armornite inside and out form enhanced corrosion protection. With the exception of a chromed firing pin and integral forged trigger guard, all internals and fire controls are standard Mil-Spec parts, all found in their usual locations. Furniture consists of 6-position CAR buttstock without raised cheek welds but with a fixed sling loop at the heel, a 2-piece Mil-Spec carbine length polymer handguard with internal heat shields and a Mil-Spec A2 pistol grip.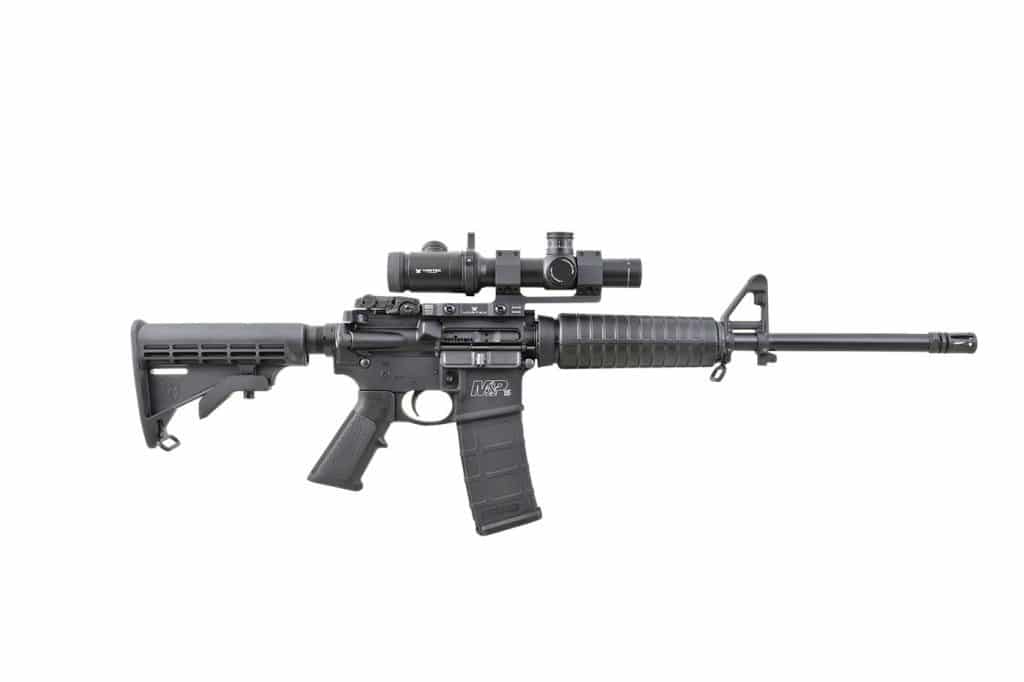 The M&P15 Sport II Optics Ready measures 35.0" long with the stock fully extended and weighs 6.5 lbs. empty.