Built on CMMG's new-for-2016 ANVIL receivers that combine the strength of their MUTANT mid-size platform with their patented POWERBOLT technology, the MkW-15 XBE .458 SOCOM is a rugged and reliable piece. CMMG offers the MkW-15 XBE .458 SOCOM in two 12.5-inch barreled pistol versions ($1,899.95 with pistol brace; $1,849.95 with unadorned receiver extension) and three 16.1-inch barreled rifle models priced from $1,849.95 to $2,149.95. CMMG does not sell complete uppers separately. The three rifles are virtually identical except for their furniture and triggers. Our evaluation rifle was the mid-priced MkW-15 XBE .458 SOCOM ($1,949.95). It differs from the lower-priced MkW-15 T in that it's fitted with a Magpul MOE pistol grip and 6-position CTR carbine stock rather than Mil-Spec furniture, but it lacks the Geissele Automatics SSA trigger that is standard equipment on the top of the line model.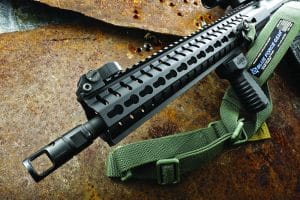 Features common to all the rifles include Anvil mid-size receivers machined from billet 7075-T6 aluminum, a 16.1-inch, medium contour, 416 stainless steel, SBN barrels rifled at a 1:14" twist rate, a CMMG SV muzzle brake threaded 5/8" x  32 TPI and a CMMG RKM15 1-piece machined aluminum handguard with full-length Picatinny top-rail and flats at the 3:00, 6:00 and 9:00 positions, each with 16 M-Lok slots. The hanguard's top rail mates seamlessly in both axes with the 15-slot top rail on the A4-style upper receiver. No iron sights are provided.
The safety selector, magazine release, bolt release and charging handle are all Mil-Spec components found in their usual locations. There is no forward assist (fine with us), and both the front and rear take-down pins are extended and rounded for super-easy disassembly.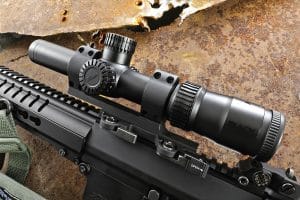 The unique MkW lower receiver's mag well readily accepts all standard AR-15/M16 magazines. The rifle ships with one CMMG-modified LANCER L5-AWM 30-round 5.56 NATO magazine, and as such can still hold 30 rounds of 5.56 NATO ammunition. The magazine has been modified to function properly with 10 rounds of .458 SOCOM  ammo, but will physically hold 11 rounds if forced. For that reason, the MkW XBE rifle is not available for sale in the "knucklehead jurisdictions" of Hawaii, Maryland, Massachusetts, New Jersey, New York, California, Connecticut,  Colorado, Washington, D.C., Chicago, Aurora and Oak Park, Illinois and South Bend, Indiana.
One of the more innovative features of this rifle is its gas system. While using  standard gas tubes, all MkW XBEs come equipped with an Sentry 7 Set Screw Adjustable Gas Block that allows quick and easy gas pressure adjustment to ensure proper functioning with the wide range of available bullet weights (140 to 500 grains). Precision machined from 4140 steel, the Sentry 7 gas block provides a 100% gas seal that allows full cut off and prevents gas from fouling the metering screw. It features 2mm Hex wrench gas adjustment (easily accessible through one of the slots in the handguard), Melonite QPQ finish on the gas block, the 4140 Nexturn Swiss precision metering screw, the 4140 steel detent plunger and the proprietary alloy flat spring with 1400 degree F. temperature rating. All rifles ship with the adjusting screw set nine clicks out, but turning the screw clockwise decreases the amount of gas, reducing felt recoil, while turning it clockwise increases the amount of gas, improving reliability of light loads that cycle poorly.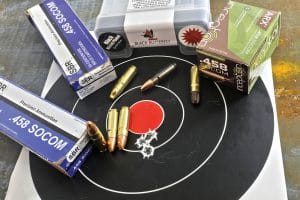 The only thing we could find to complain about was the rifle's CMMG single-stage Mil-Spec trigger; it was gritty, stacky and heavy. While it worked every time, it did nothing to enhance our ability to shoot tiny groups. Luckily, there are no shortage of aftermarket, drop in trigger assemblies to choose from to rectify this sole deficiency, and you could also opt for the top-of-the-line Anvil, the XBE2 model ($2,149.95), which comes equipped with a Geissele SSA two-stage trigger directly from the factory. Empty weight of the rifle is a reasonably-light 7.5-pounds.
For testing we mounted a Nikon Black Force 1000 1-4x24mm riflescope ($399.95) in 30mm rings. Its illuminated Speedforce reticle made acquiring the next target easy, and we expect it would make an ideal scope for hunting hogs at night. We tested the MkW XBE on steel at 25 yards. The gun balanced and handled well, and tracked easily among targets. No malfunctions of any type were encountered. Testing ammo consisted of Black Butterfly 300-gr. Barnes TSX hollowpoints, SBR 300-gr. Lehigh Defense Xtreme Penetrators, Polycase 200-gr. copper-polymer ARX Interceptors and SBR 350-gr. FMJs.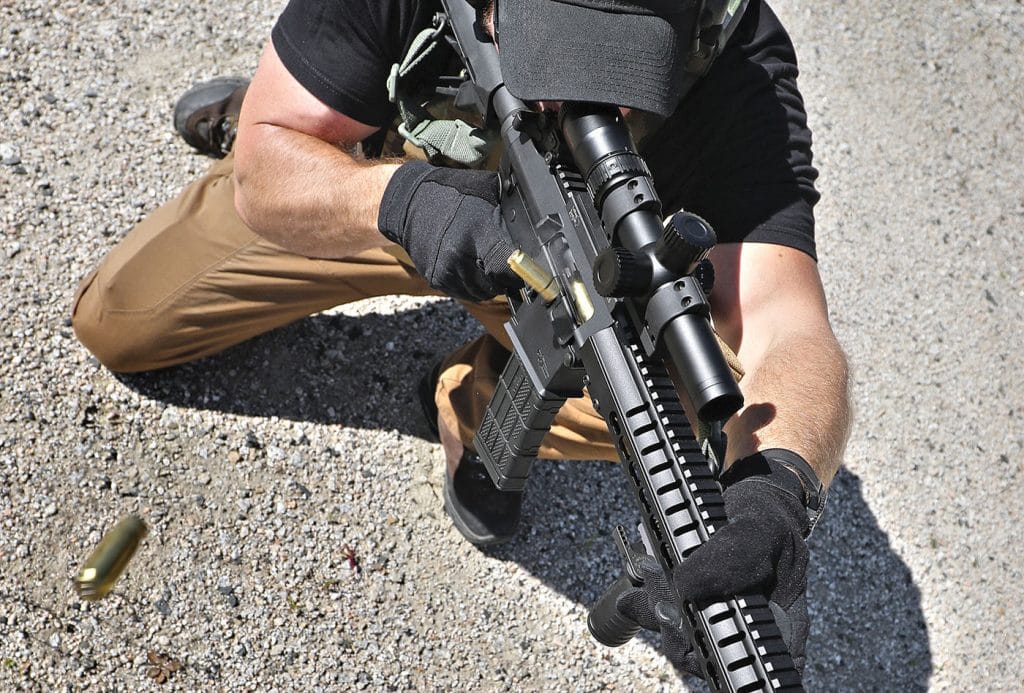 From the 100-yard bench, the Anvil produced some very respectable results. All ammunition proved capable of producing at least one sub 1.75-inch three-shot group, but the Anvil seemed to show a distinct preference for the 350-gr. SBR load, keeping most of downrange performance within an inch center-to-center, and proding a best group of 0.78-inches. As one might expect, recoil energy increased alongside grain weight, with the lightest of the loads—the 200-gr. ARX—producing around 7.62x39mm felt recoil, and the heavy 350-gr. SBR approaching 12-ga. shotgun levels.
See it at your firearms retailer, or for more information contact CMMG, Inc., Dept. OT; Tel.: (660) 248-2293; Web: www.cmmginc.com