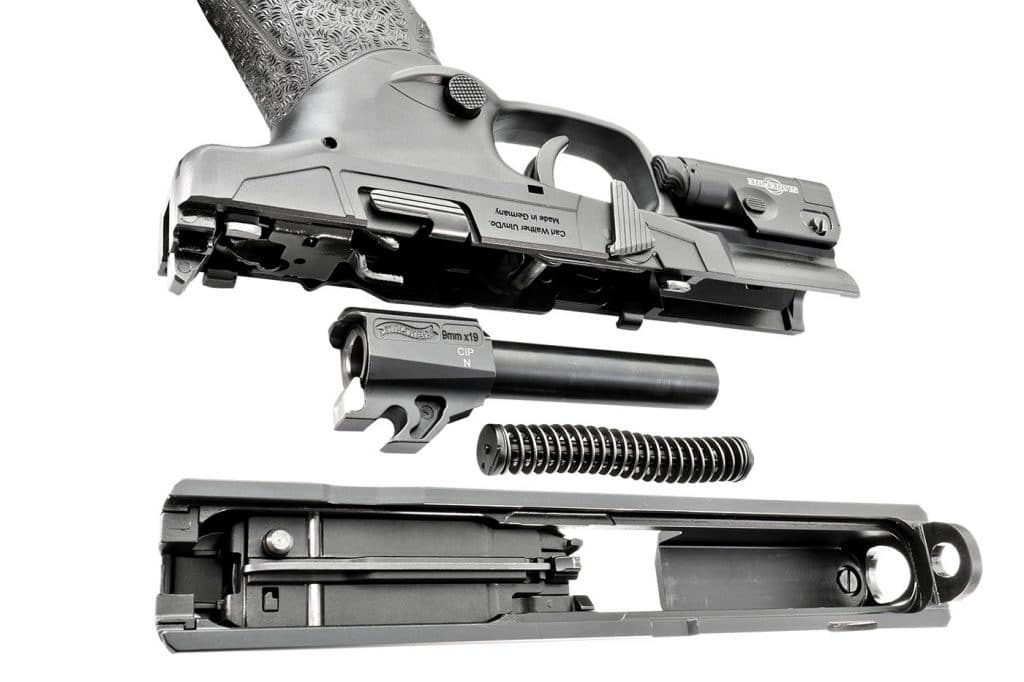 Among the few controls is an extended slide release lever mounted on the left side of the frame. It's large enough, and smartly placed, so that you can actually depress it with your right thumb to release the slide without breaking your firing grip. The only other controls are the trigger, a triangular-shaped take-down lever and a large, round, reversible magazine release button which, if your thumb is sufficiently long, can also be depressed without breaking your firing grip. The Creed comes with two, 16-round (10-round available), blued-steel magazines with polymer base plates that drop free of the magwell as soon as the magazine release button is depressed far enough.
Other features include an over-sized trigger guard, corrosion and abrasion resistant Tenifer coating on all metal surfaces, 2-slot Picatinny light/laser rail molded into the bottom of the dust cover, low profile 3-dot steel sights (fixed front/windage adjustable rear), two drop safeties and a firing pin block safety and an ergonomically-shaped grip frame with non-slip, cross-directional grip surface that works quite well at keeping your firing hand planted where it needs to be.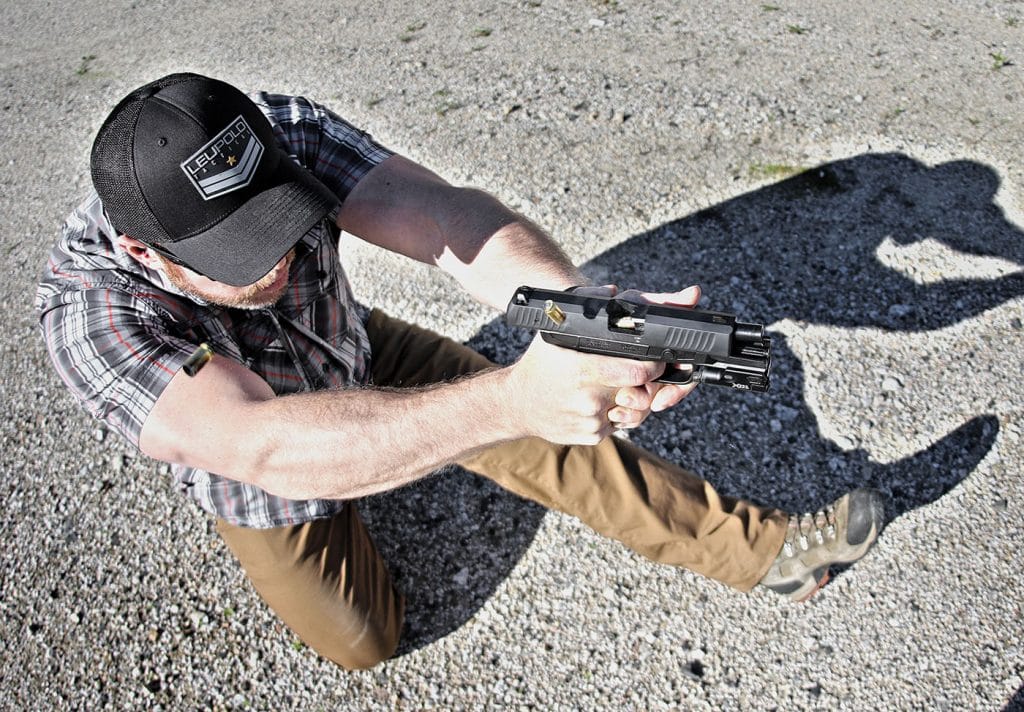 Before testing we were concerned that the Creed would exhibit a significant degree of muzzle flip due to what appears to be a high bore axis (1-3/8" from the top of the trigger to the center of the bore), but it never materialized during any course of shooting. We attribute that, at least in part, to the deep recess at the top rear of the grip frame that creates the equivalent of an extended beavertail that holds the muzzle down.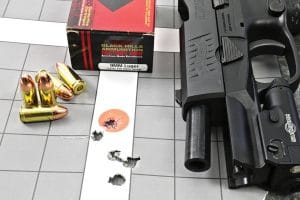 Breaking the pistol in with 200 failure-free rounds on our steel targets, we transitioned to the bench to see what kind of 25-yard precision $399 buys you. Working through four different loads—in both 115-gr. and 124-gr. weight's, as well as both hollowpoint and full-metal-jacket bullet styles—the Creed turned in some darn respectable results. While we did have a few groups that landed in the 3 to 4-inch territory, there were several that came in under two inches. This includes the best group of testing—fired with Black Hills' excellent 115-gr. FMJ load, and measuring an impressive 1.58-inches. Not much to complain about here.
See the highly competent and extremely affordable Creed at you gun shop, or contact Walther Arms, Inc., Dept. OT; Tel.: (479) 242-8500; Web: www.waltherarms.com