The rifle was obviously made to shave every ounce possible. I really liked how this was accomplished with aesthetics in mind. The horizontal cuts along the receiver take weight off without compromising rigidity and the spiral fluting on the bolt makes for one very sexy firearm. One might argue further fluting on the barrel would have fit the motif, however, the use of a pencil thin contoured barrel didn't really call for it. Using the plain barrel helps shave off something else that is just as important: price. At just $754, this specialty hunting rifle is well within reach of most moderate budgets.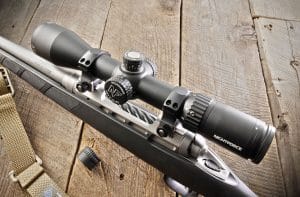 The Lightweight Hunter comes drilled and tapped for your favorite bases. For our 7mm-08 test rifle, we put on some simple, inexpensive Weaver mounts and then topped them off with the new Nightforce 3-10x42mm SHV riflescope (nightforceoptics.com) mounted in a pair of Nightforce X-Treme Duty Ultralight 30mm rings. In terms of value, the Nightforce SHV closely parallels the Savage's bang for the buck, giving top-quality optics, features and killer reticle options without the premium price. Our SHV was equipped with the IHR (International Hunting Reticle) reticle, which present a lightning-quick, uncluttered sight picture for those time-sensitive shots.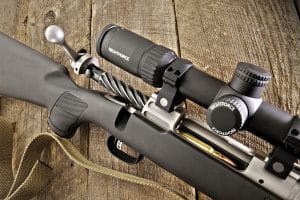 With the rifle came two different types of Federal Vital Shock ammo. Both were loaded with 140-gr. Nosler bullets, one being their classic Partition and one being their newer Ballistic Tip. We conducted group therapy at 100 yards as we do with most of our rifles. Shots were fired from a bench with the use of "The Rock" shooting rest by Caldwell shooting supplies (btibrands.com, $110). Accuracy was outstanding, not just for a lightweight rifle, but for ANY production rifle. Almost all groups came in under an inch with both types of ammo, but the Partition was the star of the show with its smallest group measuring just 0.966".  Firing the rifle offhand with just a sling proved to be a breeze. The light weight of this rifle made it very easy to keep all of our shots in the "pie plate" on our target.
When it comes to maintenance nothing is simpler than a bolt action. Disassembly is effortless. Once you are sure it is unloaded all that's required to remove the bolt is to hold the trigger down and press the bolt release located in front of the trigger guard. It slides right out and can be cleaned effortlessly from the breech to muzzle. We cleaned our rifle with Hoppe's new foaming bore cleaner (midwayusa.com, $11.99). I have always been a fan of this style of solution as it soaks the top of the bore as well. Liquid cleaners run down to the bottom half of the bore and then eventually out of it once gravity performs its magic.
This is certainly a go to gun for those who want to take their hunt further into the woods, or are looking to make a much more accurate offhand shot. See it at you gun shop, or for more information contact Savage Arms; Tel.: (800) 370-0708; Web: www.savagearms.com