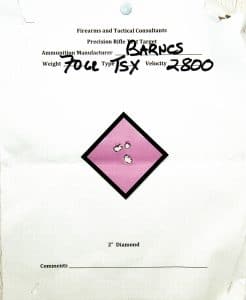 Backup iron sights are mandatory for me on any rifle used for duty or self defense. Folding sights won't interfere with your optics but require you to activate them, presumably under the stress of sighting through a now broken or obstructed optic. That means removing your optic, flipping up both sights, then reacquiring the threat. Offset sights eliminate all that. Properly timed to your barrel they operate like standard A2 sights. Turn the rifle to about 11:00 and go to work. With nothing to flip up or remove the transition is all but instant. Dueck Defense rapid transition sights are among the best and are available with tritium inserts. I have accurately engaged targets to 300 meters with these, so they are truly backup sights not just CQB stop gaps. Surefire's scout light was attached to the hand guard using their RM45 offset mount.
Range Time
I produced groups under an inch, with the best measuring just over .60 inches using Barnes 70-grain TSX. Trijicon's Accupoint made it pretty easy to stay at or around an inch with everything. LWRCI barrels are among the best in the industry and are capable of excellent accuracy. Anything at or under an inch is excellent, especially for a carbine designed for combat not bench rest competition. With a 1:7" twist barrel it handled all the 77-grain projectiles with ease. Everything was pretty accurate, with all of the 62- to 64-grain ammunition consistently so. All of the 52- to 55-grain ammunition worked well and the Barnes AR 52-grain was very accurate.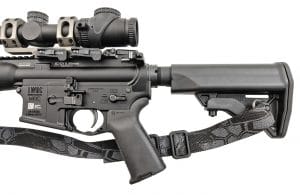 Over the course of a couple sessions using both my vehicle and some 3-gun obstacles for cover, the DI 556 performed well. Well balanced, it rested easily on barricades and other obstacles. Several new BCM Mil-Spec Teflon Coated 30 round magazines were set up with CTT Solutions magazine caps and put to the test. Nestled in an Esstac Trim Boar chest rig provided plenty of ammo for most any realistic operation without all the weight. Dropped on concrete, gravel and dirt, the CTT magazine caps stayed put. Operation was flawless during several drills.
LWRCI was one of the first companies to employ fully ambidextrous controls, and these are very intuitive. Much of my practice of late has been off hand. This rifle was even used in an LE training session entirely from my left side. Once my brain got dialed in, in reloads and manual operation were as fast as my strong side. Unlike some you can lock the bolt open with either side making malfunction drills faster. Coupled with their compact stock it was one the most maneuverable and workable ARs out there. For those of us with short arms, or when a plate carrier is used, it is excellent.
Final Thoughts
LWRCI's DI 556 is as good as any top-tier AR I have tested from any major manufacturer. Short of a custom rifle it just does not get any better. Everything on this rifle is top notch and built to last. It is built to the hilt, designed for anything you can throw at it. The gas block is robust, pinned, and properly gassed. Forged receivers are incredibly strong and light, and these are among the best. LWRCI's enhanced bolt carrier group only adds to the longevity, reliability and maintainability. Their barrels are among the best in the industry. Fluting keeps the weight down, and adds a nice look. Handguards are smooth, strong and versatile. Everything about this rifle is built for those whose lives depend on its operation. If that's you, make sure you look at the LWRCI-DI 556. For more information, contact LWRCI, Dept OT; Tel.: (410) 901-1348; Web: www.lwrci.com
Specifications:
Caliber/Gauge:            5.56mm NATO
Barrel:                        16.1 Inches
OA Length:                  32 Inches (collapsed)
Weight:                       6.7 pounds
Sights:                        None provided
Stocks/Grips:              Magpul MOE grip/LWRCI DI handguard/LWRCI short stock
Action:                        Semi-automatic/rotating bolt/direct gas impingement
Finish:                         Black
Capacity:                     Accepts standard AR-15/M16 magazines
Price:                          $1,599.00
Accuracy:
Load                                                                       Velocity                      Accuracy
Black Hills 69-grain TMK                                        2,900  f.p.s.               0.84 inches
Winchester 69-grain Match                                    2,880  f.p.s.               0.95 inches
Silver State Armory 77-grain OTM                          2,650  f.p.s.               1.00 inches
Barnes 70-grain TSX                                              2,800  f.p.s.               0.60 inches
Hornady 60-grain V-MAX                                        2,950  f.p.s.               0.80 inches
——
Velocity measured using a Pro Chrony Digital chronograph. Accuracy is the for three 5-shot groups fired at 100 yards. All groups fired from prone position using a sandbag rest.