It would appear that with sample Victory Model the "zeroing" part was left up to the ultimate purchaser. This test sample shot a good four inches high at 25 yards using a post-in-notch sight picture, and centered about an inch or so left.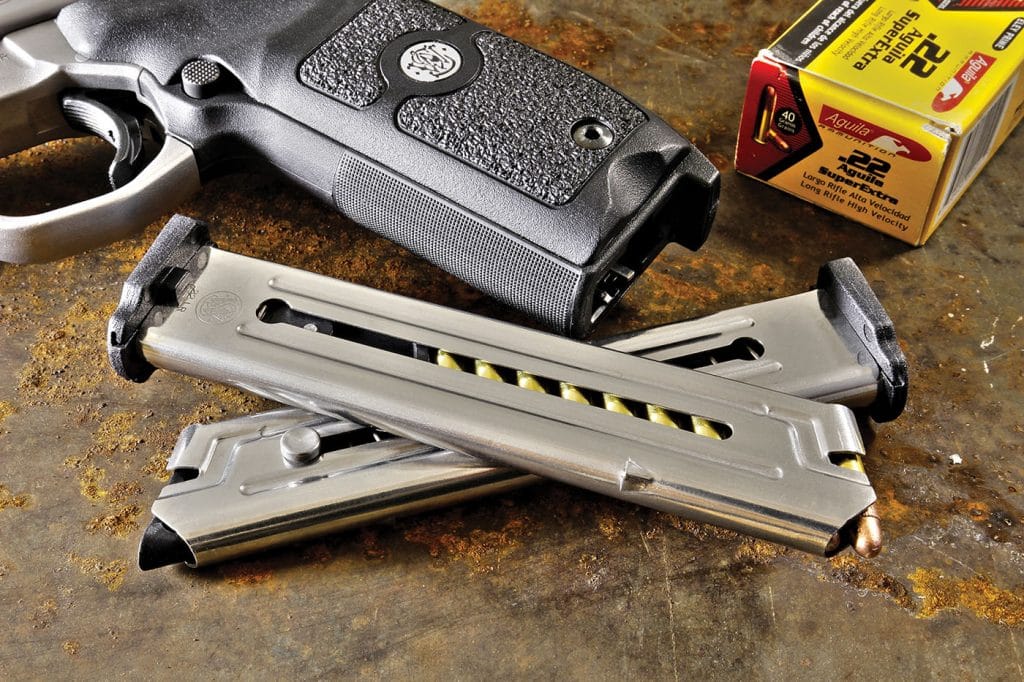 Fortunately, it came with adjustable sights. The gun came out of the box with the rear sight cranked way up, clearly accounting for the disparity in elevation between point of aim and point of impact.
No one reading this needs me to tell you about the long-lasting .22 ammo drought. To test a .22 LR pistol that might be used in a match, by definition, you want to use match-grade ammunition. My dwindling hoard of .22 LR rounds only contained three brands designated as "match" ammo.
One—which I had the most of, in part because it has been made in quantity for the Big Box stores—was Federal AutoMatch. I am not entirely sure that this is 100% truth in advertising, because I've seen some "blah" groups shot with this stuff from various .22s, along with of course some decent groups. In this case, the five shots measured 1.75". The best three, however, were in exactly half an inch: 0.50". That's promising.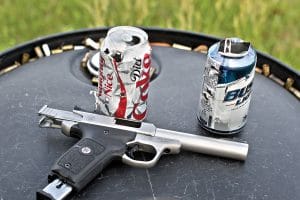 Another match-grade cartridge that most consider to live up to its name is CCI Pistol Match. The test Victory model consumed the last five of these cartridges I had in inventory (sob!) and I did my best to live up to them, but the group spanned 1.25" for all five shots. That would bring a smile to my face with a center-fire service pistol, but not so much with a .22 target pistol. However, the best three were in 85/100ths of an inch.
The star of the Victory .22 accuracy test was the Match load from the Winchester Supreme line. All five shots were well under an inch: 0.85", to be exact. And the best three of those were in 0.40". That was enough to make this old man happy.
A Dime's Worth of Commentary
When I talked with S&W reps at their booth at the SHOT Show in Las Vegas when this pistol was formally introduced in January 2016, I heard them use the phrase "dime size groups" when asked about its accuracy. Given its low price tag, I was justifiably skeptical.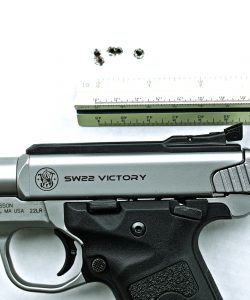 Another gun writer who lives near me, Chris Christian, has been a friend and shooting buddy for more than a decade, mostly in IDPA competition. We generally shoot about the same, and in the same "geezer" categories, but we've both won overall state champion titles against the young bucks and it's generally a see-saw which of us is going to have the better score when we shoot in the same gun divisions. We also pick up a lot of our test guns from the same FFL dealer, ProArms, and when the Victory .22s came in for us to test for our respective publishers, I was away teaching and Chris got his to the range first. The folks at ProArms told me when I picked mine up, "Chris is getting groups the size of a dime with his at 25 yards." Having seen Chris shoot, I was suddenly less skeptical about this pistol's accuracy.
With the "dime" thing in mind, I later fished in my pocket for change and dug out the Victory .22 target I had just shot from the 25-yard' bench. The dime covered the "best three" in the AutoMatch group. Ditto the best three with CCI Pistol Match. And that dime would have swallowed four of the five hits in the Winchester Supreme group.
I'll shut up now. Suffice it to say that the S&W Victory is an accurate .22 pistol.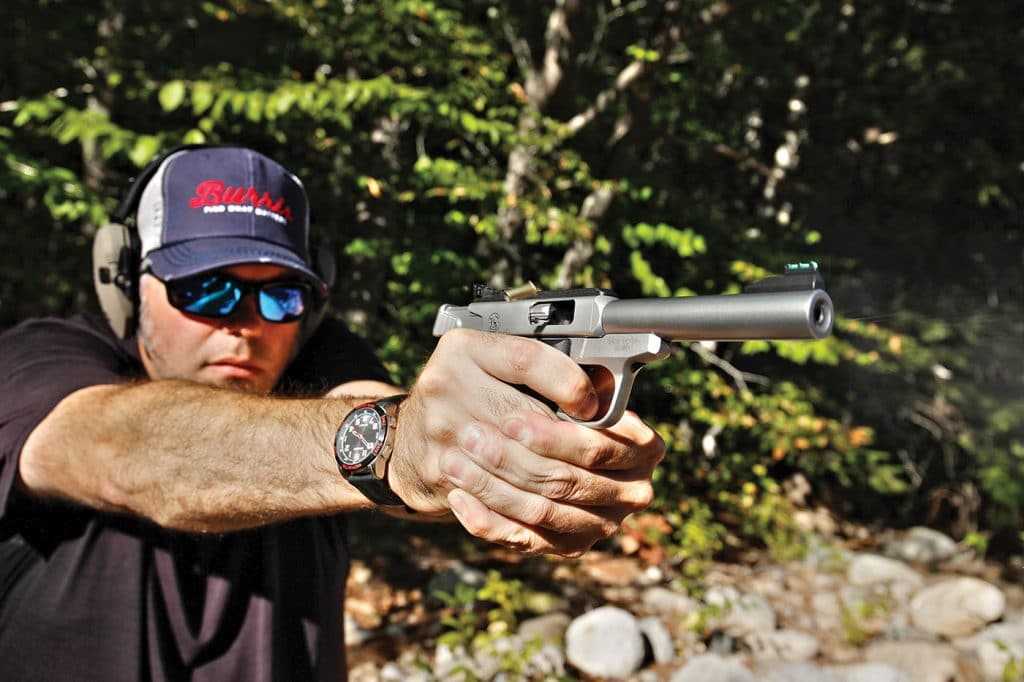 Bottom Line
One definition of "value" is what's delivered for the price. We found this pistol to be 100% reliable, a non-negotiable baseline of handgun value. The Victory series starts at $409 MSRP. That's ten bucks more than the polymer-framed Ruger 22/45 Target, and twenty bucks less than the all-steel Ruger Mark III which, from everything I can see on the Ruger website, doesn't have the adjustable sights of their own 22/45 Target or the S&W Victory, and for precision .22 target pistol shooting most of us agree that good adjustable sights are critical. Perhaps more to the point, S&W's own legendary, prestige-grade .22 target pistol, the Model 41, starts at $1,389.
I personally think the Victory has a better trigger pull than what I've found on Ruger .22 auto pistols since 1959, and in an economy priced, entry level "starting choice" for a .22 target pistol, I'd have to give the S&W Victory the nod right now. Given that in the S&W catalog, for the price of one premium grade Model 41 target pistol you can buy a Victory .22 for yourself, a second for your spouse, and a third for your kid and have some money left over for ammo, I would again give the nod to the Victory model Smith & Wesson .22 target pistol. Once you start winning trophies and moving up in your marksmanship classes in competition and feel the need for a more refined trigger pull and balance, the more costly Model 41 will start to have added value.
See the new Victory Model .22 target pistol at your local firearms retailer, or contact Smith & Wesson, Dept. OT; Tel.: (800) 331-0852: Web: www.smith-wesson.com