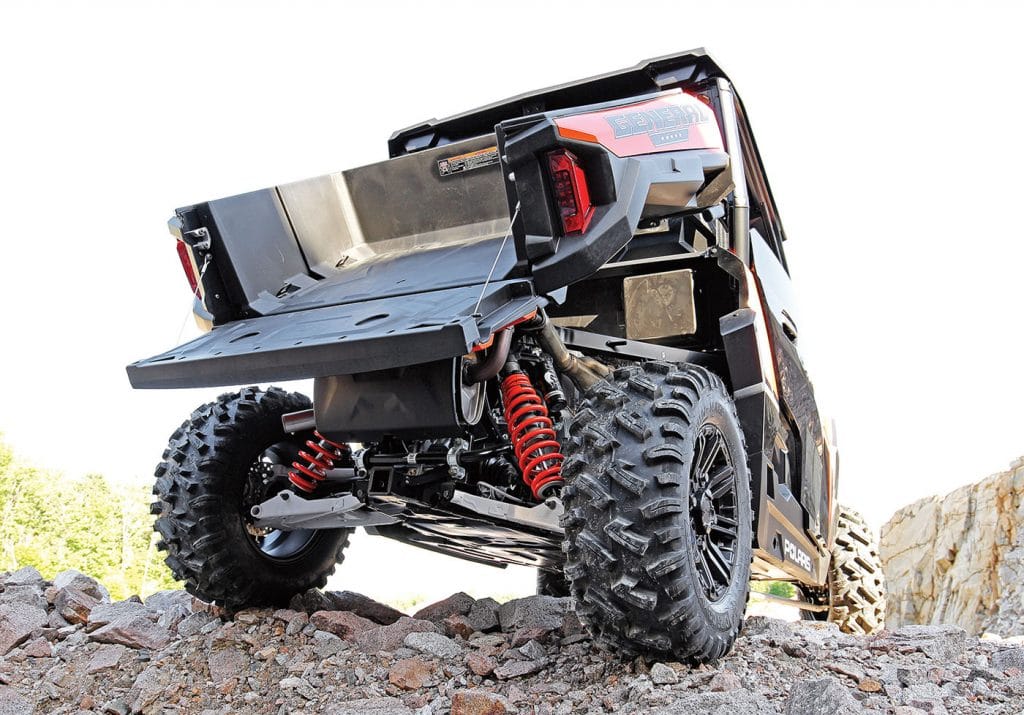 Since we don't think the resemblance to Bo and Luke Duke's General Lee was an unintentional design characteristic, we couldn't let the blatantly obvious similarities go untested. Repeated launching off nearly everything that could potentially produce airtime produced the same results every time; controlled and pillowy-soft landings. What all this suspension travel (12.25 inches in the front, 13.2 in the rear, with 12-inches of ground clearance . . . the same travel numbers as the RZR S model) adds up to a dramatic increase in rider comfort levels, along with the ability to reach your destination with a measurable decrease in travel time. We generally don't like wasting time and the General gladly facilitates our hurry to get there.
Like all other Polaris 4×4 machines, the General lineup is equipped with what we consider to be the best four-wheel drive system currently offered: Polaris' On-Demand All Wheel Drive. When toggled from two- to four-wheel drive, the machine will remain in two-wheel drive until it senses tire slippage. At that moment it will instantaneously and seamlessly engage the front drive wheels and provide true all-wheel drive traction. It works like magic, and because of it, in our experience these machines are some of the best (if not the best) for working technical, challenging and/or downright harsh sections of trail.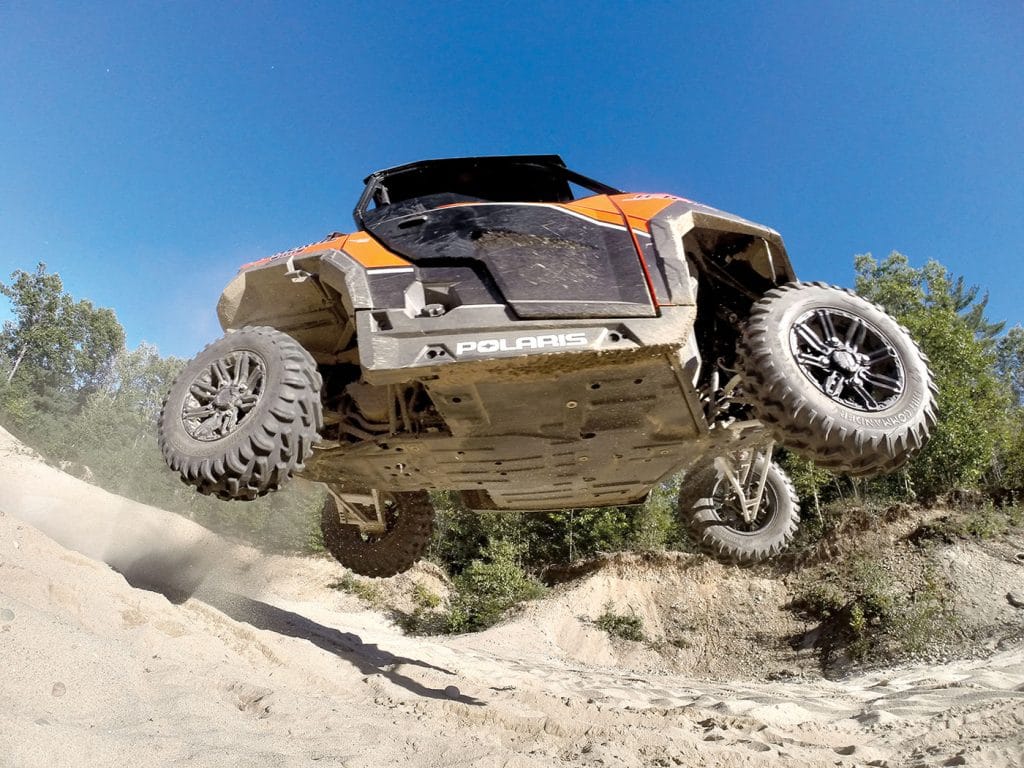 Not to be outshined by the power, suspension and drive train departments, one of the General's more impressive design aspects is its highly engineered cockpit. Entering through a set of standard, wide-swinging half doors that help keep the elements out while offering easy access, you're greeted with a pair of wide, highly bolstered bucket seats that are up to the task of all-day riding. While riders over 6-feet tall may feel cramped within the cockpit of an RZR, the General's open cockpit dimensions—aided by an adjustable driver's seat and tilt steering column—provide plenty of room for a comfortable seating position. A dizzying array of passenger compartment storage—including a sizable center console, glove box and multiple non-sealed compartments, shelves and cup holders—allow essentials to be within arms reach at all times. A customizable instrument cluster relays all of the pertinent operating info (and then some), and actually tilts in conjunction with the steering wheel for optimal visibility. The well placed shifter for the fully automatic CVT transmission gives the rider high and low forward gears, reverse, neutral and park. All in all, this is an extremely well-laid-out cockpit.

Out back the General's dump-capable, tailgate-equipped bed has the RZR beat hands-down in cargo-carrying capacity and work-friendly features. Where the RZR offers roughly 6,050 cubic inches of capacity, the General's bed more than doubles that to almost 13,750 cubic inches. In another impressive contrast, the RZR's bed will hold 300 pounds of gear, while the General will carry exactly twice that burden at 600 pounds. This extra space and weight capacity proved priceless on several outings during testing, allowing extra camping gear, hunting gear, tools and other supplies—without the need for an engineering degree in gear-packing to make it all fit. Like other Polaris machines, the General's bed features Lock & Ride depressions to add factory storage solutions and other accessories.
Our perceived drawbacks of the new General are few, and minor. The only two things we could come up with to gripe about are the rocker panels being somewhat vulnerable to rock strikes and snagging, and that the center console lid will beat the daylights out of your inside elbow over rough terrain if you're not paying attention. That's it. Polaris really hit their mark with this machine, and—as they often do—opened the door to a whole new sub-genre of hybrid sport/utility side-by-side vehicles. Check out the General ($16,299 to $20,299) at your nearest dealer, or for more information, log onto www.polaris.com.