On my Lyman digital trigger pull gauge the test LCP-II's trigger pull was quite consistent. Measured from the toe (bottom tip,) pull weight averaged 5.94 pounds. Weighed from the center of the trigger, where most shooters place their index finger, the shooter has less leverage and here, the poundage went up to an average 8.11 pounds. Note that the industry standard for modern service pistols such as the Glock seems to be 5.5 pounds measured from the toe of the trigger, which I for one would consider court-defensible. (Yes, "hair trigger" issues do come up in both civil and criminal trials.)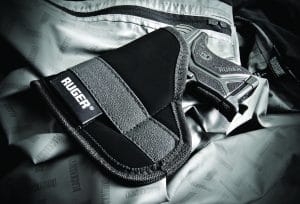 We old guys look at this and reflexively cry, "Cocked and no manual safety? Potential disaster!" We have to recognize that paradigms are changing in firearms industry standards. Ruger includes a nylon pocket holster with the LCP-II and is emphatic that the pistol be carried in this or some other good holster that protects the trigger guard—not naked in pocket or waistband, and not in a pocket that has anything in it but the LCP and its dedicated holster. I'd personally be even more comfortable if the pocket holster was rigid Kydex.
Accuracy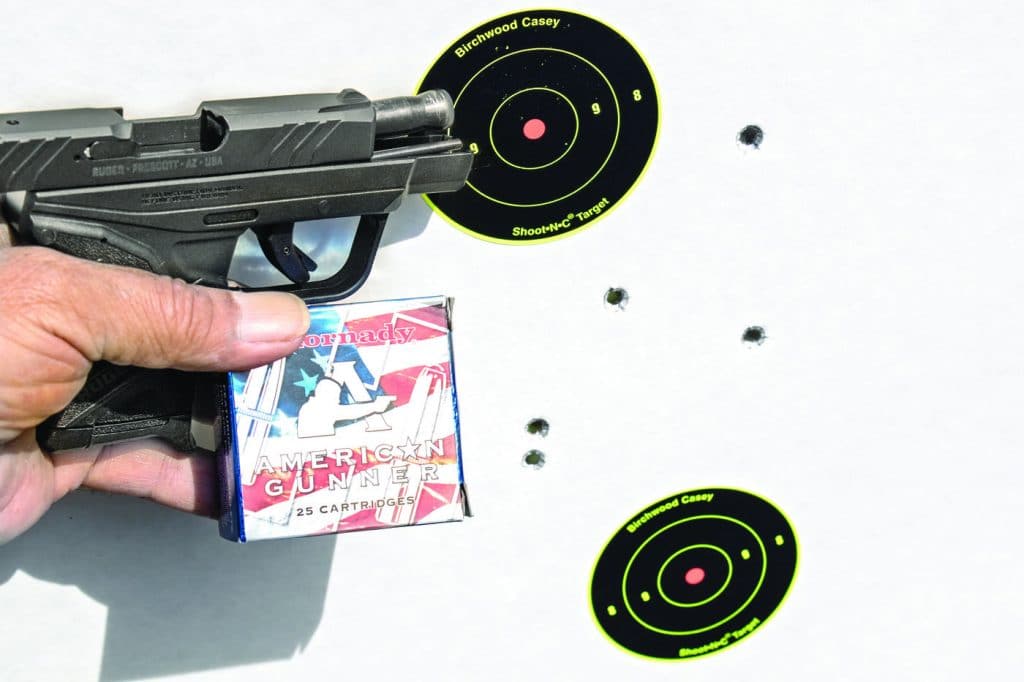 It is significant that when American Rifleman tested the LCP-II, they bench-rested it for accuracy from the short distance of seven yards. Eight years have shown us they are not built for long range. There aren't many folks who can keep an LCP in the generic service pistol accuracy class of four inches for five shots at 25 yards. The best I could do with my test sample was 5.50" for "five at 25" off a Matrix rest on a concrete bench, with the best three in 1.55". The ammo was my favorite carry round in .380 ACP, Hornady's 90-grain XTP. It drives deeper than most other JHP loads in the caliber, and expands at least somewhat. In close, accuracy is there. Six-time national title-holder, Bob Houzenga, loaded to full six-plus-one capacity and from the seven-yard line put all seven in the head of an IPSC target, shooting a group that measured an inch and a half. This sample LCP-II shot high, but was OK for windage.
Reliability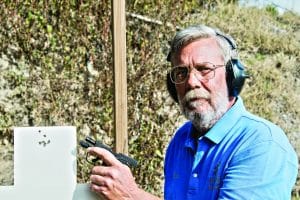 At the FTW Ranch seminar, we all put a bunch of rounds (all Hornady) through LCP-II pistols, and were all impressed with the reliability. One of my fellow writers is running one at this writing in a 2,000 round durability test with no cleaning or lubrication. In 746 rounds fired, it had experienced nine malfunctions, beginning at round no. 128. Bits of carbon and crud loom proportionally larger in the tight confines of small pistol parts, and the .380 round does not have the power to drive a slide along a dirty frame. One take-away is that it's a good idea to clean and lube these little dust-magnet pocket pistols every hundred rounds or so. They're not like a Mil-Spec 1911, whose .45 ACP rounds and sloppy fit allow the action to literally chew up dirt and spit it out.
Voices of Experience
Retired SWAT man and police supervisor, Steve Denney, has decades of instructional experience in firearms, and teaches with me at MAG LLC. After trying the LCP-II he commented, "The main thing I remember was the improved trigger feel and that it was shooting pretty well to the point of aim… I'm not a much of a .380 fan, but the LCP-II gave a good accounting of itself, with the decent trigger feel, accuracy and good controllability at speed. Sometimes those small guns are hard to grip well, but the LCP-II felt secure in my hand with the rapid fire test we did."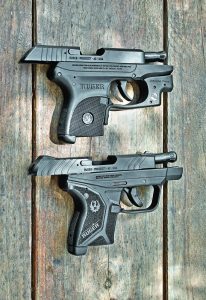 Herman Gunter III has carried and taught for decades. He said, "I found the pistol extremely pleasant to shoot. Compared to some of the really small pocket pistols that I have used, the LCP-II has several advantages. The trigger pull is really good. It is consistent, giving you a measure of take-up, and, having met final resistance, a crisp break. That trigger pull, along with the readily visible sights on the pistol, make the LCP-II easy to shoot accurately. Using a slightly below center hold on plates at 10 yards meant that the plates were flattened each time you pulled the trigger. The LCP-II is quite small and very slender, but is also easy to manipulate and shoot accurately."
Bob Houzenga is a national champion shooter, retired police chief, and instructor. His comments: "Definite improvement over the LCP in both trigger and sights. Didn't like that it shot high though. I like the grip treatment."
Rose Magistro is an experienced firearms instructor who often carries an early model LCP herself. She said, "To me the best new feature is the new grip. It seems like I can hold onto it better and the sights are definitely a plus. I found the whole gun seemed to be a little better built."
Gail Pepin is the producer/editor of the ProArms Podcast (proarmspodcast.com), and a state and regional IDPA champion who carries a 9mm to .45 Glock or Springfield daily but keeps an LCP for "when she dresses like a girl." She liked the LCP-II so much I got her one for her birthday. By the time you read this, she will have worn her LCP-II to a wedding, concealed under her tailored bridesmaid's dress.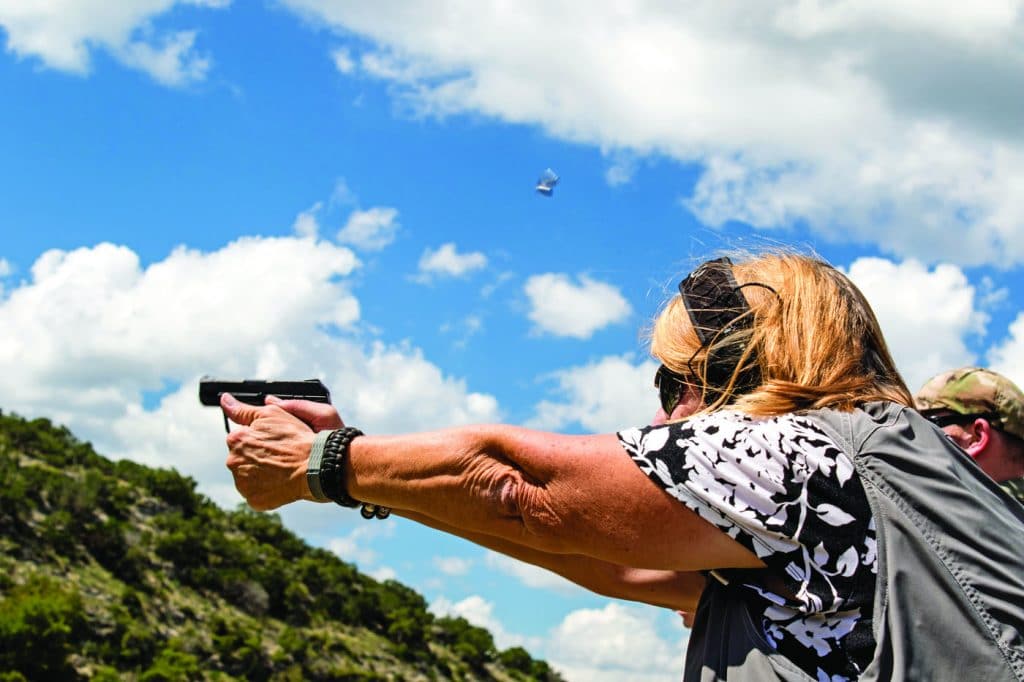 Bottom Line
A good and useful gun just got a little bit better in a lot of ways. If you're comfortable with "cocked and unlocked" and need this size pistol, I think you'll like the Ruger LCP-II. And if you're more comfortable with the old double-action-only style and have been thinking of buying a micro .380, I suspect the LCP-II is going to put a whole lot of traded-in older style LCPs into gun dealer showcases at very attractive prices.
See the LCP-II at your firearms retailer, or contact Sturm, Ruger & Co., Inc., Dept. OT; Tel.: (336) 949-5200; Web: www.ruger-firearms.com